Online Master's in Teaching Degree (MAT)
Do you want to begin—or advance—your career in teaching? Find your way to classroom success with University of the Cumberland's online MAT degree program. Our affordable online Master of Arts in Teaching program is designed for those who desire to enter the teaching field and impact the lives of students in schools and communities around the world. Our M.A. in teaching provides aspiring teachers with state licensure and builds a foundation of knowledge and experience that will help candidates excel in today's classrooms.

Cumberlands MAT program also provides educators with the opportunity to pursue alternative certification through the Option 6 route. According to the Educational Professional Standards Board (EPSB), this Option 6 alternative route to certification is the most commonly used alternative route for pursuing teacher certification. The Option 6 program allows individuals who hold a minimum of a bachelor's degree in a non-teaching major to pursue initial teacher certification through an EPSB approved teacher preparation program here at Cumberlands. Students are enrolled in the MAT Option 6 program while concurrently teaching in a Kentucky school district in the area for which they are seeking certification through their program. 
What is a Master of Arts in Teaching (MAT) Degree?
A Master of Arts in Teaching (MAT) degree program is designed to help develop expert educators for the classroom. MAT degree programs often dive deeper into their area of study or pursue coursework that helps educators integrate technologies into their curriculum.
Teachers live for the "aha" moments—those times when the light bulb goes off for students and they understand a concept. But not all students come to that understanding in the same way. Educators with a Master of Arts in Teaching degree have learned to approach their subject matter from multiple angles, providing a variety of teaching methods to reach different learners.
A MAT program is the type of education that can help teachers rank up and earn more—but more than that, it can lead to better learning outcomes for students. At University of the Cumberlands, our online program gives teachers and aspiring teachers the skills they need to provide a better, more comprehensive learning experience for students at any level, every subject, and in each classroom.
In comparison, a Master of Education (M.Ed.) is designed to help educators and teaching professionals take the next step on career paths outside the classroom, traditionally administration jobs or non-teaching educator roles. At UC, our online master's in education programs provide career-building concentrations in literacy, counseling, and leadership.
What Careers Can You Do With a Master of Arts in Teaching (MAT) Degree?
Our online Master of Arts in Teaching gives professionals with undergraduate degrees an opportunity to pursue a career in the classroom. This program also personalizes education to career outcomes—in and out of education—with concentrations in six areas. The same concentration areas apply to the Option 6 Alternative Certification route:
Elementary Education (P-5)
Middle School Education (5-9)
Secondary Education (8-12)
All Grades (P-12)
Business and Marketing (5-12)
Special Education—Learning and Behavior Disorders (P-12)
Interdisciplinary Early Childhood Education
Many of these concentrations offer multiple areas of emphasis for more specialized knowledge to shape your education and career outlook. 
Depending on the concentration you choose for your online MAT Degree program, career options can vary. For example, the middle school concentration can help you pursue relevant teaching opportunities for middle school and junior high age groups in subjects like English, Math, Social Studies and Science. These teachers averaged an annual salary of $61,320 in 2021. Similarly, the secondary education concentration can help you pursue high school teaching positions, where the average 2021 salary was $61,820. Or you could use the business and marketing concentration to pursue opportunities outside of the school classroom, such as corporate training. Training and development specialists earned $61,570 in salary in 2021. Other career options can include:
Early Childhood Education Teacher
Elementary Teacher
Special Educator
Corporate Trainer
Middle School Teacher 
High School Teacher 
And more
Is a Master of Arts in Teaching Worth It?
There are a number of potential positive outcomes from earning an MAT—ranking up, earning more, opening the door to new opportunities, etc. But the biggest reason why teachers pursue this graduate degree is also the reason why they entered the teaching field in the first place: a passion for sharing knowledge and helping others learn.
You want to help others succeed in learning. We want to help you do it. 
At University of the Cumberlands, we provide teaching development degree programs online in an environment that imparts a breadth of information; an understanding of critical concepts; and a mastery of skills designed to support a lifetime of teaching excellence, in and out of the classroom. As you progress through the Master of Arts in Teaching program, courses focus on the application of instruction through field experience in your locality. This blending of core curriculum and local field experience allows you to complete your online MAT program from anywhere.
This online program is specifically designed to provide the skills and teaching licensure needed pursue opportunities in teaching. If you wish to pursue a career as a teacher—elementary, middle school, high school and beyond—and help others learn more so they can achieve more, then, yes, this online MAT degree program is definitely "worth it." 
Curriculum and Degree Requirements
The MAT online degree provides a supportive and collaborative online learning environment. The nature of the online MAT degree program, in combination with our exceptional faculty, allows the delivery of a broad and robust knowledge base in pedagogy and instruction. Plus, there are a variety of MAT concentrations to choose from: 
Interdisciplinary Early Childhood Education Concentration
Our interdisciplinary early childhood education master's program is designed for those who want to make an impact to the lives of students from the very beginning - infancy to kindergarten. As a student enrolled in this program, you will take courses, such as Methods and Materials for Teaching Kindergarten; Introduction to Early Childhood Special Education; Screening and Assessment in Early Childhood; Classroom Management in Early Childhood Settings; and more.
Elementary Education Concentration
Our elementary education Master's programs are designed for those who aspire to impact the lives of students in schools and communities around the world. As a student enrolled in this program, you will take courses, such as Educational Technology; Classroom Management and Discipline; Methods and Materials for the Teaching of Math, English, Science and Social Studies; and Issues and Trends in Programs in Special Education. You may also choose to pursue your Master's in Elementary Education degree online.
Middle School Education Concentration
This middle school teaching degree program is designed for students who wish to enter the teaching field and contribute to stronger schools and communities around the world. During this program, you will take courses, such as Instructional Design and Curriculum, Classroom Management and Discipline, Educational Technology, and more. In addition, you will have the opportunity to participate in a supervised student teaching experience. Choose University of the Cumberlands if you're interested in teaching middle school.
Secondary Education Concentration
Our Master's in Secondary Education degree program was developed for individuals who want to make a positive impact in the lives of their students. Course work in this program includes Instructional Design and Curriculum, Classroom Management and Discipline, Issues and Trends in Programs in Special Education, The Modern Secondary School, and more. You will also have the chance to gain supervised student teaching experience.
All Grades Concentration
This Master's of education program was created for students interested in teaching at the elementary, middle school and secondary education levels. If you want to make an impact in the school and community you're a part of, consider choosing this program. Students enrolled in this Master's of education program will take courses in Educational Technology, Instructional Design and Development, the Methodology of Teaching, and Issues and Trends in Programs in Special Education.
Business and Marketing Concentration
Develop a deeper understanding of business and marketing by learning about the current best practices and theories for teaching a challenging and focused curriculum. This business education Master's degree program can help you build your business reporting, research and writing skills. In addition, you will learn to create persuasive and informative business documents and presentations. If you're planning to become an effective business teacher, consider choosing us.
Learning and Behavior Disorders Concentration
The Master's degree in special education is designed for those who hope to make a lasting impression on the lives of students. As a student participating in this program, you will take courses that include Teaching Math to Learners with Disabilities, Reading and Writing Foundations, Classroom and Behavior Management for Individuals with Disabilities, Special Education Evaluation, Working with Parents, and Issues and Trends in Special Education, among other things. If you're planning to earn your Master's in Special Education degree, consider University of the Cumberlands.
Troop to Teachers
UC has established a program whose aim is to help those who have valiantly served our country transition into a full-time teaching career. Pending availability of funds, financial assistance may be provided to eligible individuals as stipends up to $5K to help pay for teacher certification costs or as bonuses of $10K to teach in schools serving a high percentage of students from low-income families. Through the Troops to Teacher Program, individuals may apply to the University of the Cumberlands' Master of Arts in Teaching (MAT) degree program, which is designed for qualified individuals who have graduated from an accredited institution of higher learning with a minimum grade point average of 2.75 on a 4.0 scale but who do not have initial certification or teaching licensure.
Click here for MAT Course Details | Click here for MAT Program Resources
Admission Requirements
Click here to view the admissions requirements for the different MAT tracks.
Certification and Reciprocity 
Certification is the process in which a candidate is recommended for licensure and/or rank change. Upon completion of a degree, certification, or rank change program, it is the responsibility of the candidate to submit the appropriate certification paperwork to the Certification Office. University of the Cumberlands can only submit a recommendation for certification and/or rank change completed through this institution.
Applications for teacher certification/rank change should be turned in to the appropriate certification specialist no earlier than three weeks prior to program completion. Applications for certification/rank change are processed upon verification of successful completion of required assessments and receipt of the candidate's official transcript verifying completion of the program.
Undergraduate and MAT programs
Ms. Lisa Jones
606.539.4648
lisa.jones@ucumberlands.edu
Advanced Programs
Ms. Kim White
606.539.4525
kim.white@ucumberlands.edu
Certification Office
7792 College Station Drive
Williamsburg KY 40769
Fax: (606) 539-4014
Check Status of CA1
Once an application is processed by the UC Certification Office, candidates may check the status of their CA1 application by logging on to the EPSB website at www.epsb.ky.gov and accessing "View my Application History".
Reciprocity
Certification is provided for the state of Kentucky through the Education Professional Standards Board (EPSB), however, certification can transfer to all states through reciprocity. The map below displays the states that have an Interstate Reciprocity Agreement in place with Kentucky; some, not necessarily all certifications will be accepted. 
The interstate agreement, arranged by NASDTEC, is a collection of over 50 individual agreements by states and Canadian provinces. Each individual "agreement" is a statement by that state or jurisdiction outlining which other states' educator certificates will be accepted by that state.
Such an "acceptance" agreement means that the "receiving" state will issue some form of authorization allowing the inbound certificate holder to legally teach or provide service in the receiving state, provided the license issued by the "sending" state is acceptable under the agreement. This authorization may be limited in time by the receiving state, and the receiving state may impose additional requirements which need to be accomplished before the educator can teach or practice after the end of the time limit.
The Interstate Agreement is not a collection of 2-way agreements of reciprocal acceptance. For example, although Georgia affirms with its agreement that it will accept certificates from Connecticut, this acceptance in no way implies that Connecticut will accept Georgia certificates. Also the agreement does not necessarily indicate "full" reciprocity. The educator may have to complete additional requirements, such as coursework, assessments, or classroom experience, before receiving a full professional certificate in the new state. Candidates working out-of-state should contact their state's certification office for reciprocity eligibility and details.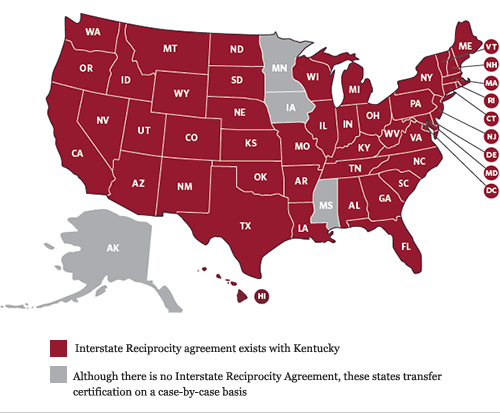 Click here for links to State Boards.
Certification Submission
Kentucky
Click here to view certification submission details for the state of Kentucky. 
Out of State
It is the responsibility of the candidate to check with their home state regarding certification requirements. If a state licensure application requires verification of degree/certification completion, the application/verification form may be sent directly to the Certification Office. Please be certain to provide your full name, UC student ID number, phone number, and email address in the event that additional information is needed.
Tuition
Costs for programs of study at University of the Cumberlands are competitive and affordable. Click here to view tuition rates and fees.
Graduate Student Success
The purpose of Graduate Student Success (GSS) is to assist students with class registration and program management. Click here to navigate the GSS webpage to better understand what to expect throughout the MAT program.
Mid-Point Assessment
You will be working with the Graduate Advising Center (GAC) to make sure you are on track. UC offers a variety of programs in education so certain requirements do not apply to everyone. It is important to review your specific Plan Program/Curriculum Contract to know what is required of you.
GAC has provided a list of items you are required to have turned in by the time you complete your program. The list can be seen on your MyUC account located under the "Student Tab". The list appears in red and will show the item(s) that are past due. Please do not be alarmed when you see this, it is a computer glitch and you need not worry. We are simply letting you know what is still needed from you at this point, as well as, what will be required of you to complete the program. It is our hope that you will have a smooth transition when you exit your program.
Click here to view the mid-point assessment documents. 
Accreditation
Click here to view University of the Cumberlands' accreditation information. 
In addition to the overall institutional accreditation statement above, the specialized accrediting bodies related to this degree are listed below. 
KDE/EPSB – State Accreditation
University of the Cumberlands' School of Education is further accredited through Kentucky's Educational Professional Standards Board (EPSB), 100 Airport Road, 3rd Floor, Frankfort, KY 40601. (502) 564-4606. Fax: (502) 564-7080.
CAEP – National Accreditation
The School of Education at University of the Cumberlands (UC) is accredited by the Council for Accreditation of Educator Preparation (CAEP) at the initial-licensure level and advanced-level.  CAEP promotes excellence in educator preparation through quality assurance and continuous improvement.  UC's School of Education has earned national accreditation by demonstrating excellence in the areas of content and pedagogy, clinical experiences, selectivity, program impact, and capacity for continuous improvement.
 
CAEP Address: 1140 19th St NW #400, Washington, DC 20036
CAEP Phone Number: (202) 223-0077
Faculty
Click here to view a list of the education faculty. 
Admissions Office
Visit Us In Person
649 S. 10th Street Suite C
Williamsburg, KY 40769