Online Master's in Digital Forensics
University of the Cumberlands is pleased to offer the Master of Science in Digital Forensics degree program. If you're looking for the technical skills to begin – or advance – your career in fighting cybercrime, this computer forensics degree program is for you. You'll learn the skills you need for an advanced role in recovering and investigating data lost to computer crime, fraud, abuse and other illegal activities and actors.
Intended for those who have earned a baccalaureate degree and are working in the field, this degree will help you enhance your credentials and accomplish your professional goals.
Curriculum for the online master's in Digital Forensics degree program will engage you in the theories, strategies and tactics involved in the field, including communication leadership, triaging criminal cyber-events, gathering evidence, and investigating and mitigating malware. You will use forensics technology best practices to:
Investigate data lost to illegal activities
Take an active role in recovering that data
Nurture the skills necessary for cyber forensics
Explore leadership roles in IT across fields and industries
University of the Cumberlands has been named a National Center of Academic Excellence in Cyber Defense (CAE-CD) by the National Security Agency (NSA) and the Department of Homeland Security (DHS). There are just over 200 universities nationwide with CAE-CD designation, and only two other universities in Kentucky included in this elite group.
Prepare to be a leader in the IT industry with your online Master's in Digital Forensics. To learn more about any of our cyber security or information technology programs call 855.791.7201 or simply fill out the form on this page for more information.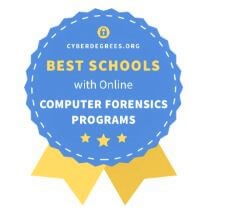 Admissions Office
Visit Us In Person
649 S. 10th Street Suite C
Williamsburg, KY 40769
Career Path
A University of the Cumberlands degree prepares you for the rigors of the professional world.  Click the button to learn more about the exciting career opportunities you can pursue with this program.