Online MSAI — Master of Science in Artificial Intelligence in Business
Ready to take your business career to new heights? Consider earning a master's in artificial intelligence in business to explore the ever-expanding influence of AI in the business field. Since businesses across the globe are heavily investing in AI, business professionals must be prepared to evolve with the industry while building the skills necessary to effectively utilize AI technologies in response to workplace demands.
Rated for Most Affordable Artificial Intelligence Programs By Master'sinAI.org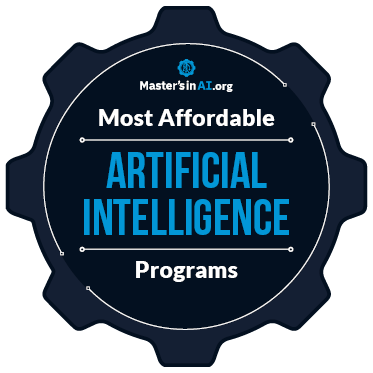 What is it?
An online master's in artificial intelligence is a graduate degree that builds on what you learned in your bachelor's degree in business, computer science, computer engineering, or information technology, as well as your technical background. The master's in AI program often attracts IT professionals with at least several years of experience. It offers the chance to explore a new direction in the field, build career-specific skills, and prepare for potential leadership opportunities.
As the use of artificial intelligence expands, businesses may seek experts with advanced knowledge of AI and its applications in business. In addition, there's increased demand for professionals who understand how AI can transform businesses to not only be more efficient but develop entirely new services. Earning your MS in Artificial Intelligence in Business could be one way to stand out from the competition and gain an edge in your career.
What Careers Can You Do with a Master's in AI in Business?
Artificial intelligence impacts nearly every facet of our lives, and this certainly extends into the professional world. The fields in which these AI-driven tasks are performed are nearly limitless, and the career possibilities are, too. Earning your master's in artificial intelligence in business could help you launch a new career or advance your skills for a promotion.
You can pursue exciting job roles on this tech frontier, including the following:
Curriculum and Degree Requirements
If you're searching for a master's degree program that can help you take your career to the next level, you've found it. The Master of Science in Artificial Intelligence in Business program from University of the Cumberlands offers the artificial intelligence, data visualization, analytics, and security insights you need to prepare for exciting employment opportunities in virtually every sector of the economy. 
Intended for those who have earned a baccalaureate degree and are knowledgeable in the various areas of AI practice, this master's degree in AI in business will help you boost your credentials and accomplish your professional goals.
UC's Master of Science in Artificial Intelligence in Business program will prepare you to:
Conduct sophisticated analyses using the appropriate analytical tools, techniques, and technologies pertinent to the functional areas of business
Apply research-based strategies that integrate theory and practical applications across functional areas in the context of overall business operations
Use ethical reasoning skills and behavior standards to ethical issues in the application of artificial intelligence in businesses and organizations
Work in a team environment and effectively communicate recommendations of applying artificial intelligence across the functional areas of business guided by high professional standards
As the AI landscape continues to expand in new directions, a master's program could help you grow along with it. If you're ready to achieve more in the artificial intelligence field, we're here to help you plan your next steps. Curriculum for the online master's in AI in business program will engage you in theories, strategies, and tactics for critical fields, including business intelligence, IT management and leadership, data mining, and information security.
The Master's in Artificial Intelligence in Business is a 31-credit program that requires 30 credit hours in core subjects such as AI in manufacturing, sales and marketing, healthcare, financial services, and risk management; data visualization, AI and operations management, and transforming a business with AI.
A one-credit-hour applied learning project caps off the program. This capstone course is designed to allow students to integrate and apply the knowledge acquired over the course of their program of study with an academic paper or project on a practical business need or business-related problem that contributes to the professional body of knowledge of business and improves business practice.
This Master's in Artificial Intelligence is delivered in an 8-week bi-term format and in a 16 week main course. Each course is three semester credit-hours and aligned with the program's goals. An outline of the Program of Studies for the Master's in Artificial Intelligence is provided below:
Artificial Intelligence Courses - 31 Hours
Mission and Goals
The mission of the Hutton School of Business and the Plaster Graduate School of Business is to foster academic excellence and student achievement at both the undergraduate and graduate levels. Students are provided with a strong academic foundation in business, and are prepared to become productive, competent, and ethical professionals. The Hutton School of Business provides a learning environment that is characterized by student-oriented instructional methodologies and the development of leadership and life-long learning skills in its students.
At the Hutton School of Business, the following broad-based goals for students have been developed:
Students will acquire the relevant disciplinary knowledge and competencies appropriate to their program of study.
Students will acquire effective business-related professional skills.
Students will be challenged to assess their personal values and connect them to ethical behaviors appropriate to their intended endeavors.
Based upon these broad-based goals, the Hutton School of Business and the Plaster Graduate School of Business have identified the following general intended student learning outcomes for students pursuing the M.S. in Artificial Intelligence in Business:
Students will acquire advanced knowledge, relevant artificial intelligence skills, and appropriate application techniques to deploy artificial intelligence in business.
Students will acquire the applied skills needed to integrate artificial intelligence theories and practices across various business functions.
Students will acquire the ability to apply an ethical decision-making framework to decisions that have ethical considerations.
Students will acquire the ability to collaborate productively and communicate effectively.
Admission Requirements
Admission to our University is very competitive as well as selective and we review each application by the same standards.
Application and Application fee
A completed Bachelor's degree from an accredited college or university with a minimum undergraduate grade point average (GPA) of 2.5 on a 4.0 scale
Submit official transcripts from all applicable colleges/universities attended; must be received directly from the issuing college or university.
A cumulative grade point average (GPA) of a 2.5 or above on a 4.0 scale
Any international course work completed must have official transcript evaluations completed and submitted to the University by the evaluation firm. Evaluations MUST include GPA for admission.
Approved Evaluation Firms are:
Documentation of language fluency for non-native speakers of English, such as a score report from the Test of English as a Foreign Language (TOEFL), the 8 International English Language Testing System (IELTS), or a report from Duolingo. This requirement is waived for students who have completed bachelor's or master's level coursework in the U.S. at an accredited institution. The minimum acceptable TOEFL or IELTS scores for admission are: 

Paper-based TOEFL (PBT) - 550 
Internet-based TOEFL (IBT) - 79 
IELTS - 6
Duolingo - 100
All admissions materials should be submitted to Graduate Admissions:
University of the Cumberlands
Graduate & Online Admissions
649 S. 10th Street Suite C
Williamsburg, KY 40769
Phone 606.539.4390
Toll Free 855.791.7199
Email gradadm@ucumberlands.edu
FAQ'S FOR MASTER IN ARTIFICIAL INTELLIGENCE
IS A MASTER OF SCIENCE IN ARTIFICIAL INTELLIGENCE (MSAI) WORTH IT?
Pursuing an advanced degree is an investment in your future, and earning a master's degree in AI in business from University of the Cumberlands may be worthwhile for a number of reasons:
You could prepare for leadership opportunities. Many organizations prefer to hire business managers who hold a graduate degree. These career paths may become increasingly complex as businesses increasingly rely on artificial intelligence for daily routine tasks. Earning a master's could help you prepare for both current and future, unforeseen challenges and opportunities in artificial intelligence. 
You could boost your earnings and job security. Master's degree-holders earned a median annual salary of nearly $13,000 more than bachelor's degree-holders in 2019. In addition, those with a master's degree had an unemployment rate of just 2 percent, compared to 3 percent for the working population overall.   
Earning a master's doesn't have to put your career on pause. The master's in AI in business at University of the Cumberlands is designed for working adults. Offered in a variety of modalities, you can study in a flexible format, enhance your skillset, and prepare for new professional challenges—all while keeping your current job. 
WHERE CAN I LEARN ABOUT TUITION?
Costs for programs of study at University of the Cumberlands are competitive and affordable. Click here to view tuition rates and fees.
IS THE MASTER'S IN ARTIFICIAL INTELLIGENCE ACCREDITED?
Click here to view University of the Cumberlands' accreditation information. 
In addition to the overall institutional accreditation statement above, the Hutton School of Business at University of the Cumberlands has received specialized accreditations for its business programs through the International Accreditation Council for Business Education (IACBE) located at 11374 Strang Line Road in Lenexa, Kansas, USA. For a list of accredited programs please refer to our IACBE member status page. Please review our Public Disclosure of Student Achievement.
WHO ARE THE FACULTY IN THE MASTER'S OF ARTIFICIAL INTELLIGENCE PROGRAM?
Admissions Office
Visit Us In Person
649 S. 10th Street Suite C
Williamsburg, KY 40769