The Learning Commons
The Learning Commons (located in the Patriot Success Center in the basement of the Grover M. Hermann Library) provides various services and events like peer study groups, one-on-one tutoring, workshops covering specific topics and skills, and a toolbox of resources that can support students succeed both in the classroom and the whole University experience! Email us at tlc@ucumberlands.edu or call 606.539.4312 for more info or assistance. 
Writing Help: The Writing Center is available to help you plan, draft, revise, and edit your writing assignments. Do source citations cause you frustration? Not even sure what a source citation is? We can help with that too!
Course or Topic-Specific Resources
Undergraduate On-Campus Tutoring:  Come visit us in our new space in the Library basement! The location is spacious and flexible, so you can meet with an Academic Fellow (safely) in-person for a one-on-one session or a small group study. To schedule an on-campus, in-person session, just email tlc@ucumberlands.edu
Online Tutoring: Need help and you don't want to get out in the snow? Or the drive is too far? Or you live far far away? No worries, the Learning Commons offers assistance in partnership with Tutor.com to provide online, on demand resources so that all students, no matter where you are, have access.

Log into your Blackboard course and click "Online Tutoring" on the left-hand side course menu.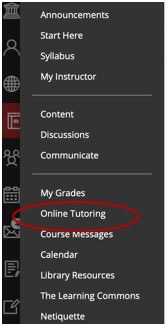 Select your Topic and Subject from the Drop-down Menu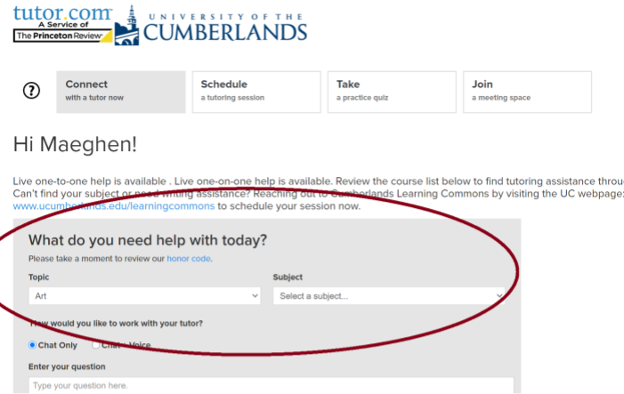 Graduate Students
The Writing Center offers targeted support for Graduate students with Dissertation and academic paper review and quantitative and qualitative methods tutoring. You can access this support through the same steps described above.
Statistics tutoring is available on-demand but with limited hours. Generally, our Graduate Academic Fellows have availability during the week between 12 pm – 10 pm (eastern time zone) and on the weekends at varying times.
Writing/Draft review is available by virtual paper drop off (through tutor.com). Submitted papers will be claimed by a Graduate Academic Fellow within 12 hours (probably sooner) and the review will be completed within 2 weeks ( possibly sooner).
Other Resources and Help
The Learning Commons provides tons of resources, self-guided assistance, and student success tools within the Learning Commons course in iLearn. You are already enrolled - go explore our toolbox!
Other Events
Does your group, class, or team want to host a workshop? Have an idea for a peer study group? Is there a topic out there you know you and others could use some guidance? Not even sure where to turn or what to do? Let us know by e-mailing us at tlc@ucumberlands.edu