Welcome to the Writing Center! We are here to help you plan, draft, revise, and edit your writing assignments. Do source citations cause you frustration? Not even sure what a source citation is? We can help you with that too.  Take advantage of our writing resources virtually, or you can schedule a time to meet with one of our Academic Fellows in-person or online.
Would you like to schedule a one-on-one session with the Academic Fellows?  Follow these steps to get started!
1. Click Schedule a Session (below) – this will take you to One Login for University of the Cumberlands
2. Choose the Tutor.com tile on the page:



Don't see Tutor.com as an option?  Choose "Company: Everything" to open all services accessed through OneLogin.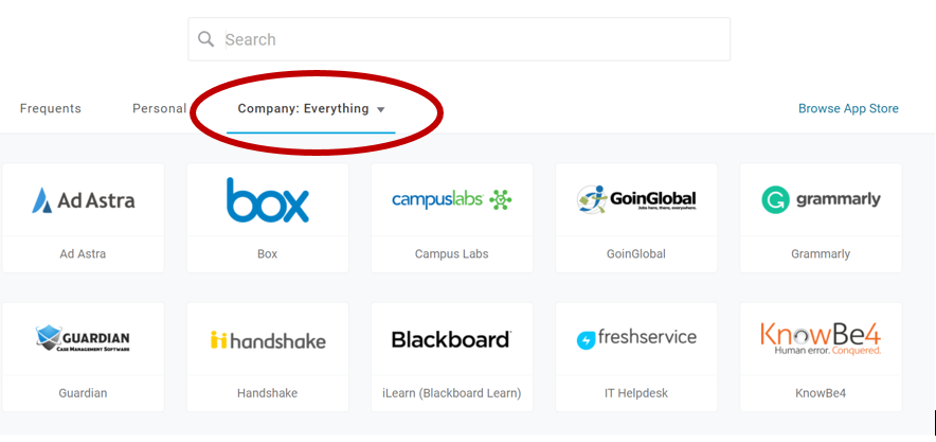 Or use the Search Box to locate Tutor.com

3. Once you've accessed Tutor.com, select "Join a Meeting Space"

4. Scroll over the available tutors to find your subject and schedule a time!
Writing Center FAQ
Will you fix my paper?
We will help you improve your writing skills, which should improve your paper. We will not edit your paper for you.  If we did that, it wouldn't sound like you, and we want your voice to shine through your writing! 
So what can a Writing Fellow help me with?
Our Writing Fellows can help you with all levels of writing, citing, and research and maybe even tips on how to make the perfect smoothie. You can get advice on planning your writing project, gathering research, managing that research, drafting, revising, and citing your sources. We can chat about issues you are having with your project, or you can submit a document for feedback. 
What if my professor says I have lots of grammar/punctuation/style issues to fix in my paper?
Grammarly to the rescue! Grammarly is a program that can help you spot trouble areas in your writing (all kinds of writing, not just papers!) with grammar, punctuation, word choices, spelling, sentence structure, even plagiarism checking.  Wow, right? Grammarly is a grammar fanatic, but nicer about pointing out all your comma splices.  And no one else has to know how many comma splices you had in your paper before Grammerly so gently pointed them out and showed you how to fix them. 
What if I just need help with my citations?
Lucky for you we have style guides that can help you check your citations.  Use the Library's style guide to check your citations and your format. Sure, you can find some citation checkers online, but user beware! They are not created equal, and none of them can create all your citations correctly. If you really want to be sure it's right, or you have one of those weird sources to figure out, upload your paper for a citation review or email us at tlc@ucumberlands.edu
Help! I can't find any/enough/more research!
Take a deep breath and tell your self 'you got this'. And then check out the Library's research guides.  Still can't find what you're looking for?  Email The Learning Commons at tlc@ucumberlands.edu, and we can brainstorm a solution together!
What is the cost?
There are never any costs associated with our services. Nada. Zip. Nunca. 
What if I can't come to campus?
No problem! We have you, your time zone, and geographic location covered. We offer all of our services online, so you can enjoy them with your laptop propped up in front of you in bed while wearing your jammies if you like. We don't even care if you are in the next building over.
What if I'm working on a thesis/dissertation/graduate paper/proposal?
First, pat yourself on the back for being so successful in your class so far! Then check out our resources for graduate students.  You can browse through tip sheets and other resources, submit documents for feedback, and connect with a Writing Fellow in-person and online.
Are you using Academic Writer to help you write and manage your papers and sources? The Writing Center can help you learn how to use Academic Writer to help you excel in all your graduate classes.
What if English is not my first, second, or third language?
Bravo! Don't worry; we have resources to help you hone your English skills that will help you in your studies. Look for our ESL specific resources in our online resources.