With the Graduate School, students enrolled in all Doctoral programs at Cumberlands will be guided through the research and writing process for their dissertations. The doctoral dissertation is designed to evaluate the candidate's capabilities as a scholar and is the final academic requirement of all doctoral programs. 
The Graduate School Dissertation Handbook serves as a resource for students on the dissertation procedures, requirements, and expectations for activities completed through the 
 
Below you can explore the process and resources that guide students through your writing for the dissertation process. Please note that some academic programs may have additional parameters or requirements; those are outlined either in the Graduate Catalog or by the academic department to students during their enrollment.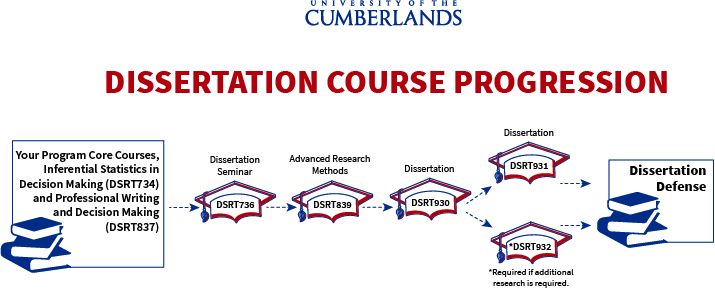 All courses are prerequisite for the next course.
Course

Student Tasks for Progression

DSRT734 - Inferential Statistics in Decision Making

Application of statistical methods to research design, as well as the investigation of real-world applications of these methods

DSRT837 - Professional Writing and Decision Making

Introduction to writing and organizational skills needed for dissertation

DSRT736 – Dissertation Seminar

Topic Approval
Chapter Two Draft
*Prerequisite: Inferential Statistics in Decision Making

 

DSRT839 – Advanced Research Methods

Comprehensive Exam
IRB
Chapter 1 & 3 Drafted

DSRT930 – Dissertation

Dissertation Committee Approval
Chapter 4 Drafted

DSRT931 – Dissertation

Chapter 5 Drafted
Disseration Review by Academic Department
Disseration Defense

DSRT932*

*Required if student research required longer research timeline
Need More Help? Review our Frequently Asked Questions or  contact us at graduateschool@ucumberlands.edu
Check out informational sessions hosted for Doctoral Students on our events calendar.